Swarovski Colour in Detail
Purple Velvet 277
Custom Search
Purple Velvet (277)
This Swarovski colour is from the Exclusive Range from
Crystallized™ - Swarovski Elements
.
Purple Velvet is a deep rich, royal and intensely romantic purple with silken depths. This is one of the most popular colours among Swarovski enthusiasts. Many a person have enquired and wanted to know what articles/items Swarovski produces in this colour. One would hope a lot but unfotunately that does not seem to be the case.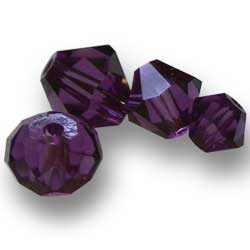 As per information from Swarovski (July 2008), only the following articles are available in Purple Velvet:

code
Availability
5000
Round
8mm in Purple Velvet AB is only available on *Special Production
5020
Helix Bead
the 3mm & 4mm are Discontinued - ie Swarovski will no longer produce them in this colour. So if you find them, grab them!!



(As of this writing in July 2008,

ClearlyChosen

has secured for themselves some of the only remaining available 3 & 4mm Helix 5020)

5040
(rondelle)
5301
Bicone bead
On *Special Production only for the following:

4mm in Purple Velvet AB2X
6mm in Purple Velvet AB2X
8mm in Purple Velvet AB




(

ClearlyChosen

does have some of this at time of writing in Jul 08)

5601
Cube
Legend
* Special Production - Swarovski charges a surchage on most standard quantity orders

If you are looking for Purple Velvets, you will want to check out ClearlyChosen who has secured and continue to stock more of this exquisite colour.
Custom Search
Like This Page?