Buttons, Fastener, and Zipper Category
Closing with Style with SWAROVSKI ELEMENTS
Custom Search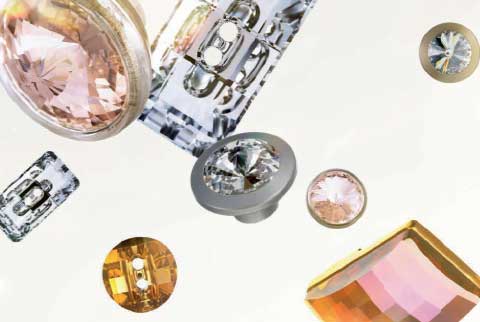 Swarovski crystal buttons, fasteners, and zippers are the premium range in closures. They add that final touch of excellence; they close with class!
The Crystal Buttons can be used as easily as standard ones. They apply to blouses & shirts; jackets & coats; everyday apparel & lingerie; denim and haute couture sporty ensemble; accessories; jewelry making. Application is either by hand or with a mechanical device.
Common mis-spelliings:
swarovsky, swrovski, sworski,sworowski, swavoski, swavorski, swarvski, swarowsky, swarovsk, swarovki, swarov, swarosky, swaroski, swarofsky, swarofski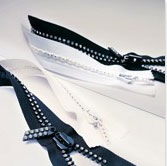 Swarovski Zippers are uniquely crystallized; uniquely stunning. Crystals are integrated into the teeth. They can be utilized exactly like standard zippers. Offered in black or white fabric.
Versions: Swarovski Zippers come in 3 different versions: Classic, Magic, and Brilliant.The Classic and Magic Zippers are recommended for outerwear only. The Brilliant Zippers are additionally recommended for shoes and accessories.
Pullers & Sliders: For some zippers, you can also choose "Zebra" - viz. with black puller & slider; or with white puller & slider. Below are some samples of what a "zebra" zipper looks like.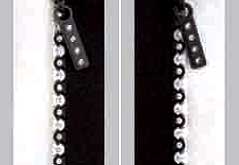 Zebra with black puller and slider.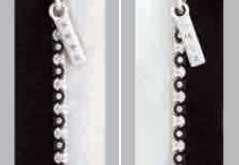 Zebra with white puller and slider.
Lengths: The zippers also come in various lengths. Any length not offered or for those that are over 100cm, can be custom produced on request. Swarovski states that "over- or undersupply +/- 10% (of the length) is possible and has to be accepted".

Open/Closed Ended: The zippers can also come as Closed ended (closed at one end) or Open Ended (can be fully separated).
Zipper pullers can also be obtained separately. Apart from the conventional use, these are just great for crafts, jewelry making, clothing, bag accessories, mix media work, and so much more. To me, this is a most delicious item inadequately utilized in creative ways.
Buttons, Fasteners, & Zippers Index
---
Crystal Buttons
---
Buttons with Plastic Shank
---
Custom Search
Like This Page?