Swarovski Crystal Buttons
3024 Dufflecoat Crystal Button
Custom Search
Swarovski Crystal Button 3024 Dufflecoat was newly released in early 2012, as part of their Innovations Spring/Summer 2013. This crystal button boasts a proud combination of playfulness, sparkles, and utilitarian functionality. Swarovski has launched this in 3 colors, 8 effects - so there is a great choice for all needs. It also begins life in sizes 23mm and 32mm.
Common mis-spelliings:
swarovsky, swrovski, sworski,sworowski, swavoski, swavorski, swarvski, swarowsky, swarovsk, swarovki, swarov, swarosky, swaroski, swarofsky, swarofski
The 3024 Dufflecoat crystal button has large holes and can easily accommodate leather, cord, other yarns and unconventional materials. The look is exceedingly stylish modern. Use it on armbands, wristbands and cuffs, apparel, bags, chokers, jewelry making, and all types of accessories.
Use the complete details that follow to help you enjoy and choose the perfect 3024 Dufflecoat crystal button for you projects.
---
Swarovski Button 3024 Dufflecoat
Click thumbnails to have a larger version of the image and line drawings.


Crystal Button 3024 Dufflecoat - Sizes
Swarovsky Button 3024 Dufflecoat is available in these sizes: 23mm, 32mm
Please refer the Availability Chart Matrix below for more specifics.
---
Swarovski Button 3024 Dufflecoat - Availability Chart Matrix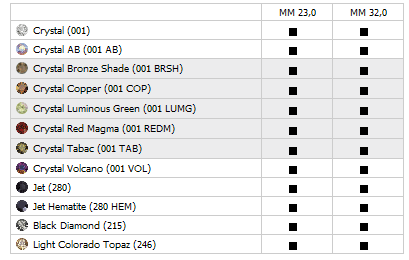 ---

To buy Swarovski crystal and findings, why not pop over to my Clearly Chosen Swarovski Store. As a Swarovski authorized dealer (wholesale/retail), I can help you either search for and/or order in for you the Swarovski you need to find. Feel free to use the free Library here to research for some of the hard-to-find Swarovski crystals.

Or Contact Me (new window) - please give me as much specifics as you can when enquiring after Swarovski, e.g. code number, size, color, effect.
Please note: apart from what is already in store, I deal mainly in Bulk Packs (¼ of full pack) or Full Packs (full factory packs), direct from Swarovski, Austria).
Color Bonus
I so happen to have on me some lovely photos of the Swarovsky Crystal Button 3024 Dufflecoat in their colors. (Photo Credit: CREATE YOUR STYLE). This is sure to whet your appetite so be forewarned!
Click to view the larger, more delicious images.

3024 Crystal (001)

3024 Crystal AB (001 AB)

3024 Black Diamond (215)
3024 Crystal Bronze Shade (001 BRSH)

3024 Crystal Copper (001 COP)

3024 Crystal Luminous Green (001 LUMG)

3024 Crystal Red Magma (001 REDM)

3024 Crystal Tabac (001 TAB)

3024 Crystal Volcano (001 VO)

3024 Jet (280)

3024 Jet Hematite (280 HEM)

3024 Light Colorado (246)
For this specific article, all the colors here are currently available in both the sizes offered. (as at Feb 2012)
---
Custom Search
Like This Page?