Swarovski Crystal Beads
Swarovski Bead 5000 Round
Custom Search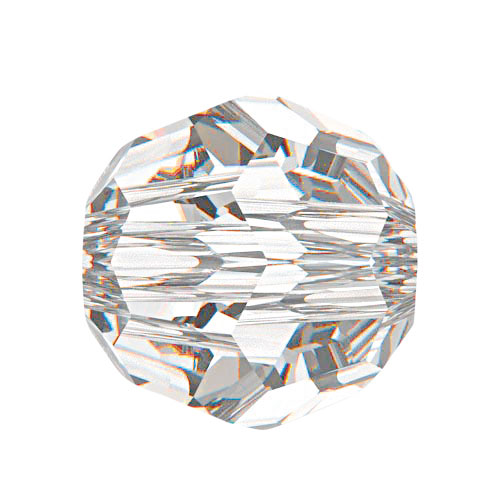 Common mis-spelliings:
swarovsky, swrovski, sworski,sworowski, swavoski, swavorski, swarvski, swarowsky, swarovsk, swarovki, swarov, swarosky, swaroski, swarofsky, swarofski
Swarovski Crystal Bead, Round 5000 is one of their most classical and popular beads in their entire catalog. It has a lot of precise cut facets making them shine with endless reflections of light. Swarovsky 5000 comes in a huge array of colours and sizes. The chart-matrix below will give you some better ideas as to color-to-size availability.
---
Free Patterns from CREATE YOUR STYLE: using Swarovski Bead 5000 Round, 2mm
The Swarovsky Crystal Bead 5000 Round comes in a huge array of sizes but also offers the smallest size available in the entire bead catalog - 2mm. Yet with this remarkable tiny size, still upholding the excellence in cut and shine of the foremost crystal maker in the world, it is able to delivery stellar performance.
These free instruction guides and how to in making jewelry comes to you directly from CREATE YOUR STYLE with SWAROVSKI ELEMENTS. You are welcome to view/download them for your own use.
Little Miracles - Beading on a Grand Scale
---
Swarovski Color Chart - Beads
View or Download this Swarovski Color Chart for Beads for your color convenience: Swarovski CREATE YOUR STYLE Beads SS2013 Color Chart (.pdf, approx. 500KB).
You can also always get the latest Color Charts from our Swarovski Information Center's Colors section.
Not all the colors shown in the color chart will necessarily be available for Swarovski Bead 5000 Round. Use the chart-matrix below to determine that.
---
Swarovski Bead 5000 Round
Click thumbnails to have a larger version of the image and line drawings.


Crystal Bead 5000 Round - Sizes
Swarovsky Bead 5000 Round is available in these sizes.

Please refer the Availability Chart Matrix below for more specifics.
---
Swarovski Bead 5000 Round - Availability Chart Matrix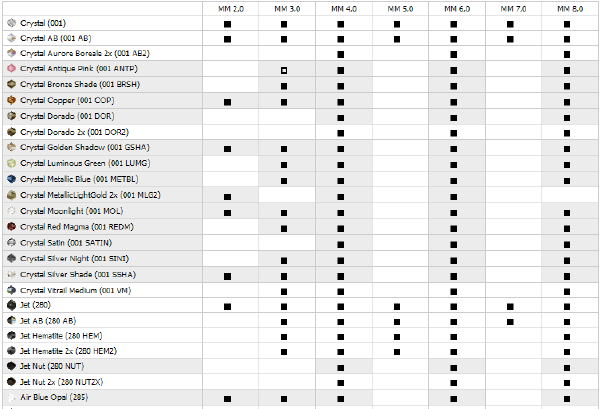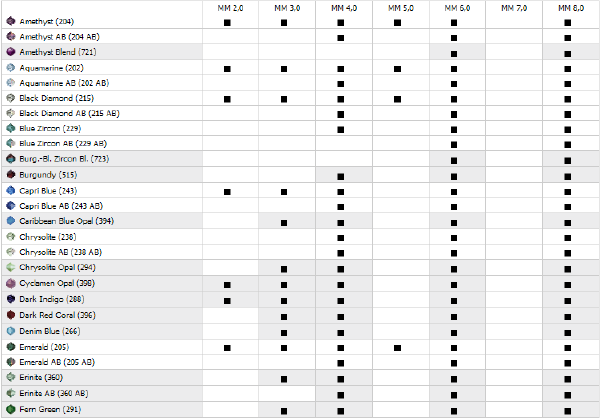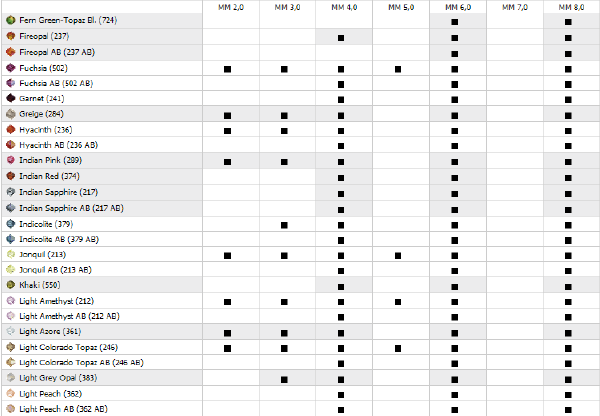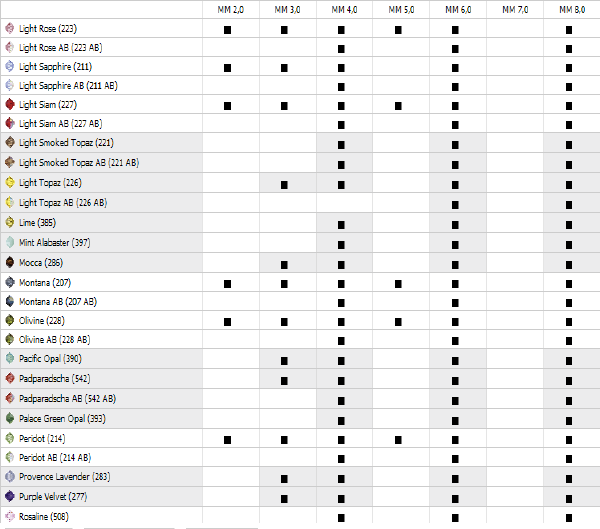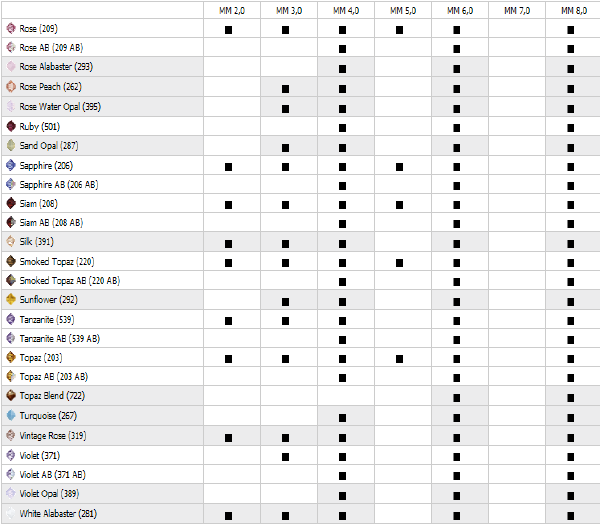 ---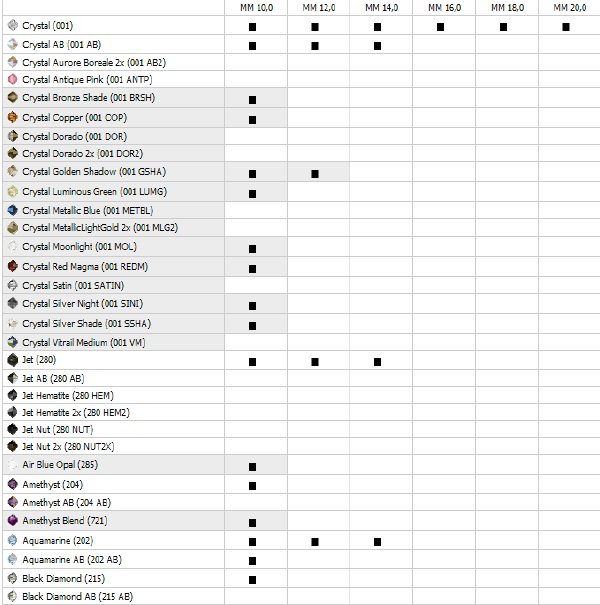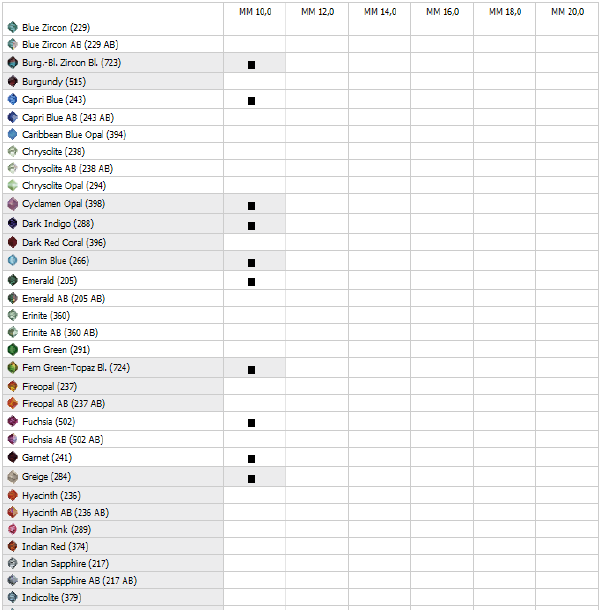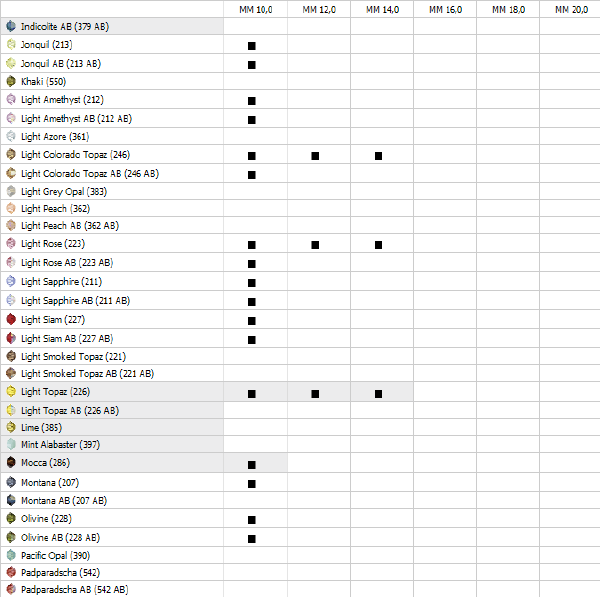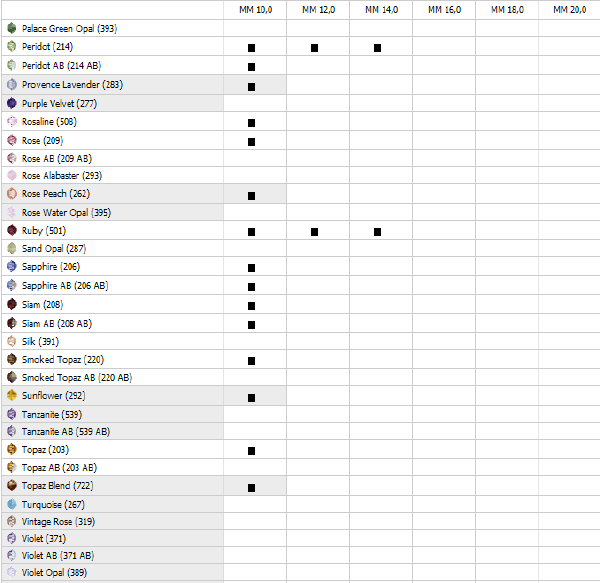 ---

To buy Swarovski crystal and findings, why not pop over to my Clearly Chosen Swarovski Store. As a Swarovski authorized dealer (wholesale/retail), I can help you either search for and/or order in for you the Swarovski you need to find. Feel free to use the free Library here to research for some of the hard-to-find Swarovski crystals.

Or Contact Me (new window) - please give me as much specifics as you can when enquiring after Swarovski, e.g. code number, size, color, effect.
Please note: apart from what is already in store, I deal mainly in Bulk Packs (¼ of full pack) or Full Packs (full factory packs), direct from Swarovski, Austria).
Custom Search
Like This Page?