Fancy Multi Settings
part of Crystallized™-
Swarovski Elements
CUPCHAINS and FINDINGS > Fancy Multi Settings
Custom Search
Swarovski's range of Fancy Multi Settings range from article number 41106 to 47603
(as at Mar 08)
. Items in this range are Round or Fancy Stones that are set in special metal cups - e.g. crosses, balls, spokes, flower clusters, or graduated settings.
The stones in the items are available in most of the
Swarovski Stone Colours
. as well as various platings: Gun Metal (G), Rhodium 305 Mil (H), Sterling Silver 15 Mil (S), and Gold 3-5 Mil (3). Please refer to each individual product to view more detailed options on each.
---
Article Explanation - Base Item Number
e.g for base Item 41106
4
1
1
06
Product Category

4 Fancy Multi Settings
Stone Code


(type of stone used)



1 Baguette
7 Round
Setting Code

1 Spoke
2 Cross
3 Flower Cluster
5 Ball
6 Graduated
Number of
stones
in the setting


(always 2-digit code)



03
04
05
06
08
10
11
12
---
Below are a list of product items, sorted by their Codes. Not every item has a name but when they do, we will include it. Click on the code-link for more details of each item.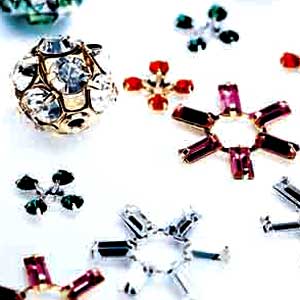 Custom Search
Like This Page?