Swarovski Fancy Multi Setting
47105 Spoke Round
Custom Search
Swarovski item Spoke Baguette 47105 is a most versatile and unique finding. It is offered with one ring or no ring. And with the center hole, it lends itself to be applied in many other ways including sewing on. It also offers interesting ability to be used as a connector in ingenous ways. At its simplest, it offers itself as a simple pendant.
Base item number 47105 tells you that:
4 - it is from Swarovski's Fancy Multi Settings category
7 - has round types of stone
1 - laid out in a spoke setting
05 - comprises of 5 stones
---
Fixed features
of this item are:
only one stone size is offered here: (size: PP24 or 3.00–3.20 mm)
central hole diameter: 2.2 - 2.3 mm
outside diameter: 20.5 mm
---
Specifying the Variable Features you want (as per below) would definitely help your supplier find the item you want much faster.
Variable Features available:
stone colour & effects: see Stone colours for choice of crystal colours and effects
metal plating:
· (G) Gun Metal
· (H) Rhodium 3-5 Mil
· (S) Sterling Silver 15 Mil
· (3) Gold 3-5 Mil
base metal: by default, it will be Brass. But customers can request Sterling Silver if they choose (prices vary of course!)
Ring Configuration:
· (00) None
· (1T) 1Ring at top
---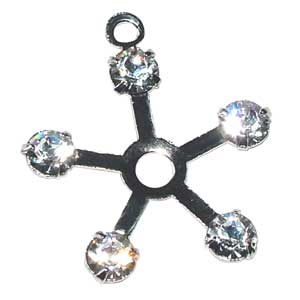 Custom Search
Like This Page?