Swarovski Bead
Flower Bead 5744
Custom Search
Swarovski Flower Bead 5744 is as enchanting as a landscape by Monet or Sisley. They have a shimmering beauty that kindles a yearning for the simpler, more carefree days of old. Perfect for jewelry that evokes the love, peace, and understanding of Flower Power. Can also be used on shoes, handbags, belts, and accessories to give a flavour of vintage Victoriana.
The flower shape is availabe as Bead, Pendant, or Fancy Stone.
As with all Swarovski crystal beads, the precision cuts and lead content guarantees you the best brilliance and amazing perfections. This is part of the
Crystallized™ - Swarovski Elements
.

Sizes/Colours Availability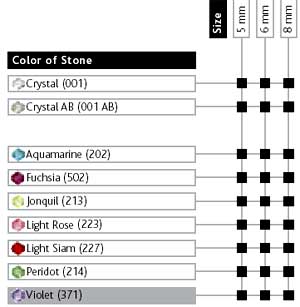 Jet (color) is also available for all 3 sizes (as at Mar 08)
Custom Search
Like This Page?