Rondelle
part of Crystallized™-
Swarovski Elements
CUPCHAINS and FINDINGS > Rondelles
Custom Search
Swarovski's Rondelle is made of Round Stones combined with metal parts. They are used as a 'spacer' bewteen beads, pearls, etc. They can also be used to enhance the application of cabochons and/or rivolis.
see
general information on Rondelles
We will collect a list of product items here for your easy reference. They will be sorted by their Codes. Not every rondelle crystal has a name but when they do, we will include it. Click on the code-link for more details of each item.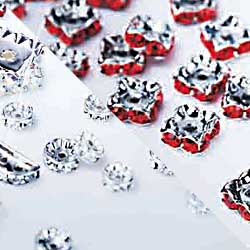 Custom Search
Like This Page?