Jewelry Connectors
many beautiful ways of linking your chains & findings
Custom Search
Amazing Jewelry Connectors
The term "jewelry connector" is relatively modern in its popularity and general acknowledgement.
In large, the emergence and recognition of this term and what it means has been due to the huge & ever-expanding offerings in this line and the simultaneouls demand for these types of jewellery findings.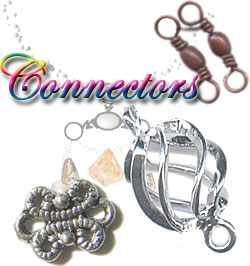 The term is both precise & vague. Precise because that is exacting what these jewelry findings do ~ let the jeweller connect different bits and pieces together, whether they be from link to link, beads to link, charms, etc. They are undeniably extremely useful as connectors and the plethora of varied designs out there today has enabled jewellery makers to be able to "connect" in really beautiful ways.

However the term "connectors" is vague because it is a very generic term that covers a whole gamut of styles, of shapes, of materials. In fact, by the very definition of the term connector, many other jewelry findings falls easily into this category, including jump & split rings, clasps & toggles, sliders.


There is no denying how diversified, varied, and ever-amazing the varieties of connectors there are. And equally undeniable it that at some stage you too will want and need connectors for your creations ~ not just for utilitarian practical purposes but that it will add immensely to the beauty of your designs.
Swarovski channels are also a form of connectors. In the words of Swarovski, "(channels) are single Round or Fancy Stones without foiling fitted with a metal rign around the girdle of the stone. This gives the channels its typical feature: the viewer is able to look 'through' the Round or Fancy Stones."

They can have more than one loop as a connecting-point.

Custom Search
Like This Page?