Swarovski Metal Buttons & Filigrees
62012 Filigree
Custom Search
Swarovski item 62012, from their
Metal Buttons & Filigrees
category, is a delicious cluster of crystals set in sepcial metal setting. It has a raised central stone encircled with smaller stones. It is easily used as a pendant while allowing more ingenious linking and connecting via its cutout border rim. Used as pendants, drops, charms, and special connectors.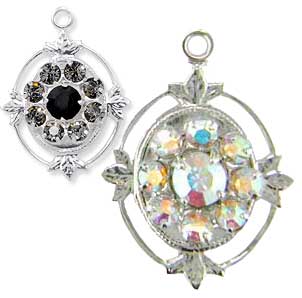 Base item number 62012 tells you that:
62 - it is a Filigree within their Metal Buttons & Filigrees range
---
Fixed features
of this item are:
Outer stone: PP18 (2.40–2.50 mm) - outer stone size; 8 stones
Center stone: PP32 (6.68–6.87 mm) - center stone size; 1 stone
Ring Configuration: 1 top loop; no additonal rings (00)
Back Configuration: (C) closed
Stone shape: Round (stone art no. 1028)
Overall Size: 20.5 x 5.5mm (incl loop)
Loop inner diameter: 1.45 mm
Max. Thickness: 4.5 mm
Variable Features available:
stone colour & effects: see Stone colours for choice of crystal colours and effects.
Note: you can request separate colours for the center vis-a-vis the outer stones
metal plating:
· (Z) No plating
· (A) Antique Gold
· (B) Antique Rhodium
· (G) Gun Metal
· (H) Rhodium 3-5 Mil
· (S) Sterling Silver 15 Mil
· (3) Gold 3-5 Mil
base metal: by default, it will be Brass. But customers can request Sterling Silver if they choose (prices vary of course!)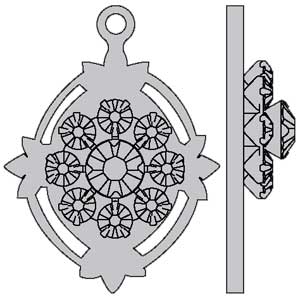 Custom Search
Like This Page?