Swarovski Single Stone Settings
11104 Baguette
Custom Search
Swarovski item 11104 is a Single Stone Setting featuring a stunning cut Baguette stone in a Baguette 4-prong setting. 2 stone sizes are available and a number of different, interesting and useful setting configurations.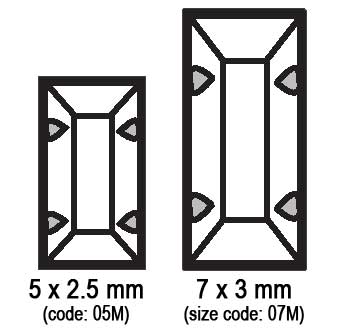 As of July 2008, we have been advised that Swarovski has discontinued all production of this item.
ClearlyChosen
is still offering a few packs of this item.
---
Base item number 11104
tells you that:
1 - it is from Swarovski's Single Stone Settings category
1 - has Baguette stone
1 - set in a baguette shaped setting
04 - has four prongs in the setting
---
Fixed features
of this item are:
Stone Shape: Baguette

(Stone Art No. 4501)

Back Configuration: (C) closed (ie not see through)
---
Specifying the Variable Features you want (as per below) would definitely help your supplier find the item you want much faster.

Variable Features available:
stone colour & effects: see Stone colours for choice of crystal colours and effects
metal plating:
· (G) Gun Metal
· (H) Rhodium 3-5 Mil
· (S) Sterling Silver 15 Mil
· (3) Gold 3-5 Mil
base metal: by default, it will be Brass. But customers can request Sterling Silver if they choose (prices vary of course!)
Stone Size: 2 stone sizes available - (05M) 5x2.5 mm or (07M) 7x3 mm
Ring Configuration: For either size, you can request (1T) 1 Ring, or (TB) 2 Ring - top & Bottom
| Ring Configuration | Back Configuration |
| --- | --- |
| | |
Custom Search
Like This Page?