Swarovski Single Stone Setting
Princess Baguette Single Stone Setting 11004
Custom Search
This Swarovski Princess Baguette Single Stone Setting has cups with flaps which ensures that there is no danger of getting caught on fabrics.
This new innovation in 2008-2009 has a larger distance between holes, giving more stability.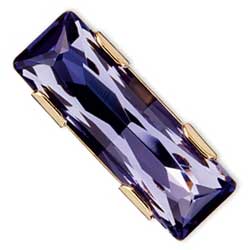 Not recommended for textile applications because this finding is not resistant to washing nor dry-cleaning.
Suitable for jewellery, DIY applications, accessories (shoes, bags, belts, handbags)
Sizes: Princess Baguette (stone shape art. 4547)
24x8, 30x10 mm

Colours: Stone - in all stone colours
Plating - gold, rhodium, silver, gun metal, or unplated
Note: metal also available in Sterling Silver upon request



Custom Search
Like This Page?