Swarovski Crystal Pendants
Swarovski Pendant 6010 Briolette
Custom Search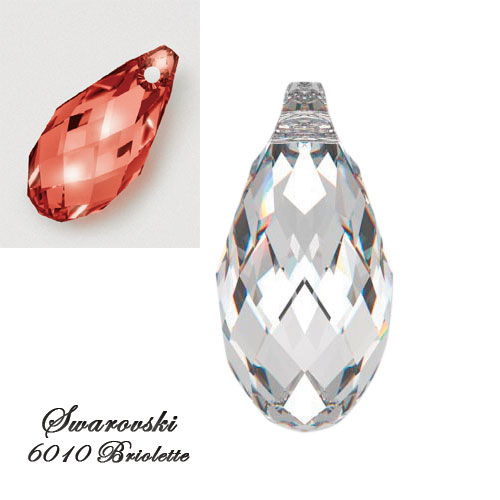 Common mis-spelliings:
swarovsky, swrovski, sworski,sworowski, swavoski, swavorski, swarvski, swarowsky, swarovsk, swarovki, swarov, swarosky, swaroski, swarofsky, swarofski
Swarovski Pendants - General Information
Swarovski crystal Pendants are timeless for their brilliance and elegant cuts. Swarovski Pendants are amazingly versatile, especially given their large range of sizes. They can be used as striking focals, as drops, and even woven as "normal" beads in bead weaving. They also lend themselves to remarkable ease of use, requiring either just a bail, jump rings, and/or stringing materials. They are also perfectly complemented when worked with wire-work, with either the wire(s) going round the pendant or in creating customized bails for the crystal pendants. The joy and possibilities are quite endless.

The Swarovski crystal briolette has had a huge revival in popularity in recent times. The briolette is often, rightly or wrongly called, teardrop due to its shape.
The term "briolette" can refer to either the shape or the cut (facet) of the stone. Briolette is shaped like an elongated pear or like a tear drop. It is usually characterized by triangular facet cuts, but not always necessarily so.
Swarovski offers their 6010 Briolette crystal pendant in a large range of colors and effects, and in numerous sizes. In February 2012, they extended this range to include more of the new colors and effects launched in Swarovski Innovations Spring/Summer 2012.
The 6010 Briolette availability chart-matrix below will give you some better ideas as to color-to-size availability.
---
Swarovski Pendant 6010 Briolette
Click thumbnails to have a larger version of the image and line drawings.


Crystal Pendant 6010 Briolette - Sizes
Swarovsky Pendant 6010 Briolette is available in these sizes.

Please refer the Availability Chart Matrix below for more specifics.
---
Swarovski Pendant 6010 Briolette - Availability Chart Matrix
Click thumbnails to have a larger version. (Opens in new window).

---
Color Bonus
I so happen to have on me some lovely photos of the Swarovsky Crystal Pendant 6010 Briolette in their latest extended colors. (Photo Credit: CREATE YOUR STYLE). This is sure to whet your appetite so be forewarned!
Click to view the larger, more delicious images.

6010 Burgundy-Blue Zircon Blend (723)

6010 Fern Green-Topaz Blend (724)

6010 Crystal Luminous Green (001 LUMG)

6010 Rose Peach (262)
---
Custom Search
Like This Page?