Swarovski Crystal Beads
Swarovski Bead 5525 Wave
Custom Search
Common mis-spelliings:
swarovsky, swrovski, sworski,sworowski, swavoski, swavorski, swarvski, swarowsky, swarovsk, swarovki, swarov, swarosky, swaroski, swarofsky, swarofski
Swarovski Crystal Bead 5525 Wave was newly released in early 2012, as part of their Innovations Spring/Summer 2013. It forms part of their new Family Group: Wave Family (which offers this shape in Flat Backs, Beads, & Pendants).
The Crystal Wave bead exhibits a bold merger of multi-faced graphics with 3D appeal. It is reminiscent of oceans and seas making ideal for incorporating into marine themes. Perfectly suits clean, athletic lines and contemporary geometric patterning.
The hole in the 5525 Wave crystal bead is specially positioned for combining with other beads and pearls. This wave shape is dramatic on its own or in linking geometrically with other shapes offered by Swarovsky.
---
Swarovski Bead 5525 Wave
Click thumbnails to have a larger version of the image and line drawings.


Crystal Bead 5000 Round - Sizes
Currently Swarovsky Bead 5525 Wave is available in SIZES: 19 & 28 mm
Please refer the Availability Chart Matrix below for more specifics.
---
Bead 5525 Wave - Availability Chart Matrix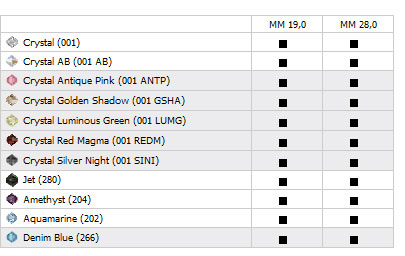 ---

To buy Swarovski crystal and findings, why not pop over to my Clearly Chosen Swarovski Store. As a Swarovski authorized dealer (wholesale/retail), I can help you either search for and/or order in for you the Swarovski you need to find. Feel free to use the free Library here to research for some of the hard-to-find Swarovski crystals.

Or Contact Me (new window) - please give me as much specifics as you can when enquiring after Swarovski, e.g. code number, size, color, effect.
Please note: apart from what is already in store, I deal mainly in Bulk Packs (¼ of full pack) or Full Packs (full factory packs), direct from Swarovski, Austria).
Color Bonus
I so happen to have on me some lovely photos of the Swarovsky Crystal Bead 5525 Wave in their colors. (Photo Credit: CREATE YOUR STYLE). This is sure to whet your appetite so be forewarned!
Click to view the larger, more delicious images.

5525 Crystal (001)

5525 Amethyst (204)

5525 Aquamarine (202)

5525 Crystal AB (001 AB)

5525 Crystal Antique Pink (001 ANTP)

5525 Crystal Golden Shadow (001 GSHA)

5525 Crystal Luminous Green (001 LUMG)

5525 Crystal Red Magma (001 REDM)

5525 Crystal Silver Night (001 SINI)

5525 Denim Blue (266)

5525 Jet (280)
---
Custom Search
Like This Page?