Swarovski Crystal Sew-on Stones
Swarovski Sew-on Stone 3700 Marguerite Lochrose
Custom Search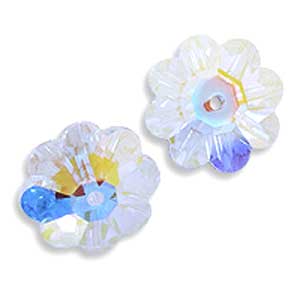 Swarovski Crystal Sew-on Stone 3700 Marguerite Lochrose is a magnificent feminine stone suitable for fashion garments, accessories, home decor, jewelry making, and a full range of sophisticated projects. The Lochrose sewon crystal is often called a sequin because like the sequin, it has one hole in the center. Lochrose is said to literally mean "hole (in a) rose"
The Swarovski Sew-on 3700 Marguerite Lochrose comes is a various sizes, colors, and effect to suit any design theme and structure.
Common mis-spelliings:
swarovsky, swrovski, sworski,sworowski, swavoski, swavorski, swarvski, swarowsky, swarovsk, swarovki, swarov, swarosky, swaroski, swarofsky, swarofski
The 3700 Marguerite Lochrose is round with a floral scallop outer edge. It is faceted on both sides. The sewon Marguerite Lochrose crystal is often referred to as margarita sew-on/beads, Daisy Spacers, Marguerite Beads or Flower Beads.
Swarovski themselves classify this under their "Sew-on Stones" category. Because of their center hole, they are designed to be easily secured to garments, accessories, as decorations, and for use in embroidery. However they are just as popularly used as beads in the form of spacer beads or by stacking various sizes of these to make fast but effective earring dangles.
---
Swarovski Sew-on Stones - General Information
Swarovski offers their glamorous Sew-on Stones as loose crystal components. They can be sewn on by hand or machine onto fabric, textiles, and/or accessories. They come with one or 2-holes.
The Sew-on crystals are extremely versatile. They act perfect elements in jewelry making. The smaller sizes are especially in beaded embroidery. They are also indispensable for garments in the fashion industry. And they are easily applied to accessories like scarves, bags, shoes, towels, cushions, pillow cases, and haute couture embroidery.
Swarovski offers a range of Sew-on Stones in many different shapes, sizes and colors.
---
Swarovski Sew-on Stone 3700 Marguerite Lochrose
Click thumbnails to have a larger version of the image and line drawings.

Crystal Sew-on Stone 3700 Marguerite Lochrose - Sizes
Swarovsky Sew-on Stone 3700 Marguerite Lochrose is available in these sizes.
Please refer the Availability Chart Matrix below for more specifics.
---
Swarovski Sew-on Stone 3700 Marguerite Lochrose - Availability Chart Matrix
Click to view full info. Opens in new window.

---
Color Bonus
I so happen to have on me some lovely photos of the Swarovsky Sew-on Stone 3700 Marguerite Lochrose in the latest available color/effect, as at Feb 2012. (Photo Credit: CREATE YOUR STYLE). This is sure to whet your appetite so be forewarned!
Click to view the larger, more delicious image.

3700 Fern Green (291)
---
Custom Search
Like This Page?