Swarovski Crystal Flat Backs
Flat Back No Hotfix (NoHF) 2854 Butterfly
Custom Search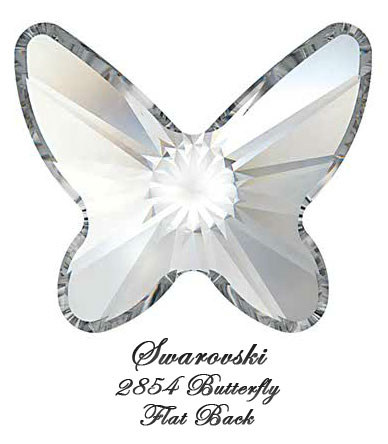 Swarovski Crystal Flatback 2854 Butterfly was released in late 2010, as part of their Innovations Autumn/Winter 2011/23. The 2854 Butterfly was designed to represent a symbol of rebirth. It lends itself smoothly towards nostalgic elements.
Common mis-spelliings:
swarovsky, swrovski, sworski,sworowski, swavoski, swavorski, swarvski, swarowsky, swarovsk, swarovki, swarov, swarosky, swaroski, swarofsky, swarofski
Botanic elements are popular in major design areas from interiors to fashion, accessories, and jewelry. It is easy to glue onto any material such as plastic, wood, glass, textile backings.
This new crystal flatback, named the Butterfly, is at this time of writing (Feb 2012) only available as No Hotfix Flat Back.:
---
Swarovski Flat Backs - General Information
Even though, in Swarovski lexicon, the term is "Flat Back", it seems that most people will more frequently spell it as "flatback" (one word). Therefore I will use both terms interchangeably, to mean the same thing.
Swarovski Flat Backs are loose crystal elements with a flat reverse side.
Generally, flatbacks with no Hotfix on the reverse, have an exclusive Swarovski Platinum Foiling (F) to create maximum brilliance.
Flatbacks with Hotfix will usually have an aluminium mirror finish on the reverse side as well as a pre-coating of heat sensitive glue. These are heat-applied (e.g. ironing on) to a wide range of carrier materials. They are durable and long lasting.
See more details on Foiling, How to iron on, with Recommended Heat Temperatures.
---
Swarovski Flatback 2854 Butterfly
Click thumbnails to have a larger version of the image and line drawings.

---
Swarovski Flat Back 2854 Butterfly No Hotfix - Availability Chart Matrix
Crystal Flat Back 2854 Butterfly No HF- Sizes
Swarovsky Flatback 2854 Butterfly No HF is available in these sizes: 8, 12, 18 mm
Please refer the Availability Chart Matrix below for more specifics.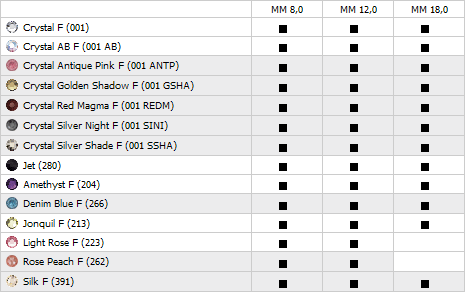 ---
Custom Search
Like This Page?