Other Jewelers Tools
there are more than Pliers to think of
Custom Search
Other Jewellery Tools
There are many other jewelers tools that could provide you with immense enjoyment plus making your creative jewellery making so much more enjoyable, pleasurable, faster, and smoother. The ones listed here are some of the more common ones but the list is in no way exhaustive. As the level of your expertise grows, you will find that having just the right specialised jewellers tool could make all the difference.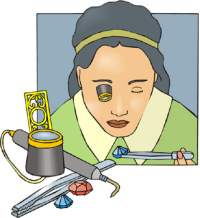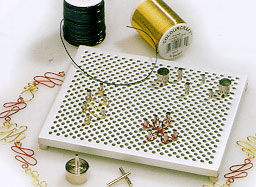 Jig
Jigs have been becoming increasingly popular in recent times. They are mainly optainable via specialist outlets but as time goes by, more and more stores are stocking it.

They are used with wire to form intricate designs for use in the making of earrings, pendants, etc. They are idal for forming elaborate loops. And they are relatively easy to use by just adjusting the position of the pegs around which the wires are wound. It ensures a consistent replication of looped designs.


---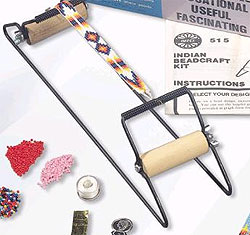 Loom
Beading looms are available in many forms, from the fairly inexpensive to the more sophisticated ones. Generally, the less expensive ones from plastic and metal are not as easy to use. If you enjoy weaving with beads, it could be worthwhile investing in a good one.


---

Needles
Needles are essential for beadweaving, knotting, and loomwork. You will require different needles for different kinds of specialised work.

For threading up a loom and making knots between beads, you will need strong blunt-ended needles.

For beadweaving, you will need very fine long beading needles so that you can pick up and thread the tiny beads.

For loomwork, you will need the specialised needles that are split by an "eye" that runs all the way down the center.


---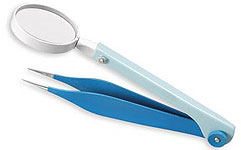 Tweezers
Sadly, less well utilized among the range of other jewllers tools are the ubiquitous tweezers. Tweezers come in a range of end tips. The one that has a curved pointed end are excellent for beading techniques and can be used to undo mistakes in knotting as well as to move knots. A very useful variation of this is the jewellers magnifying tweezer. This will do the detailed work while saving you eye strain.


---

Bead Reamer
Another under-utilised but very useful jewllers tool is the reamer. Reamers are specially designed to clear and smooth the center of beads without splitting or damaging the beads. Having a smooth center is important to decrease the amount of wear on threads.


---

Jumpring Opener
A supremely easy tool to use. Excellent for opening and closing jumprings, loops on eyepins or on earring hooks.


---

Necklace Planning Board
Many consider the planning board very useful in the planning design stages of a necklace, bracelets, anklets. It certainly is a very handy jewellers tool for preventing your beads from rolling away while you are working. However the usefulness of this is a personal choice and dependent on how you work and what you are woking on.

---
There are many other jewelers tools available out there in the market. More are coming on all the time. It is certainly worthwhile to check out some of these other jewelers tools because more times than not, you will wonder how you could have done without them before!

Custom Search
Like This Page?