How to Organise Earrings
Organisation Tips & Tricks
Custom Search
Need a way to organise earrings? You have a large and growing collection? Need a way to display them? Spending too much time trying to find matching pairs? Then the following collected tip and trips will give you some very good ideas.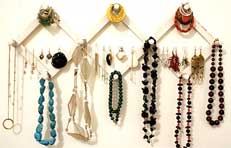 A very smart looking way is by using an accordian peg rack. By tying some fishing/nylon thread horizontally, you will be able to use this not only for earrings but other pieces of jewellery in a stylish fashion.


For French hook earrings - use a cute or elegant wine glass, cup. Hang the earring hooks over the rim in pairs. Looks good, easy to organise, and easy to find. Even looks great for photography purposes.


Find some funky, large, novelty buttons on which you can hang more than one pair of earrings. Sew buttons on curtain or large piece of (hanging) cloth. Now not only can you organise earrings with flair but this also forms a greati focal display.


A firescreen is ideal for hanging and organising your earrings. Functional and a lovely addition to any room in your house.


Styrofoam is great for both hook as well as post/stud earrings. You can even cut styrofoam pieces to fit your drawers.


At it simplest, you can use tacks or nails hammers into wall. Earrings can hang directly off them. You can also use colourful pipe cleaners or pieces of ribbon to decorate the nails. And you can also hang the earrings off these decoration pieces.


On wire mesh stretched across a wooden or picture frame.


Custom Search
Like This Page?