Handmade Rosary
"Pearls of Worship"
Custom Search
This is a special, special handmade rosary. One of my very first, if not the very first. From the deep sea beds of the oceans to the merging with the brilliance of Swarovski Crystal Pearls, this Pearls of Worship rosary is crafted in homage to the enduring calmness that prayers and rosaries contain.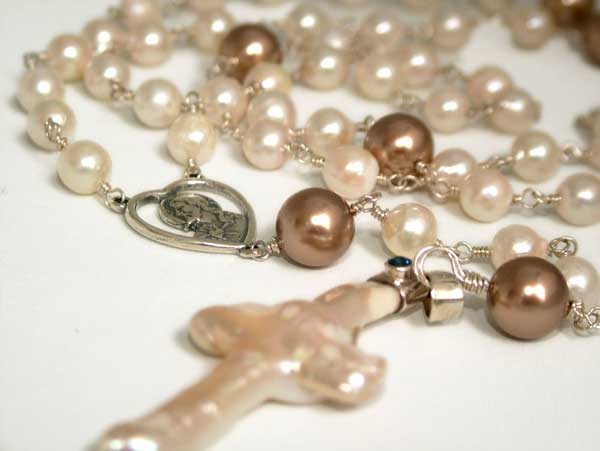 "Pearls of Worship"
A Handmade Rosary
This next photo shows the rosary in its entirety. I am not quite sure what happened to the colors here. Possibly I might have used a flash. For the truer colors, refer to the other photos. Nonetheless, I still like this shot so I have included it here.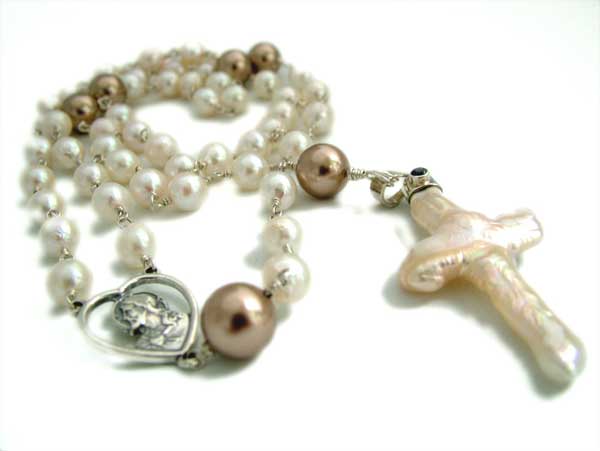 ---
Handmade Rosary Work Details and Photos
Every single bead has been linked with multi-coiled closed loops for maximum security. It is not possible to drop or lose a bead or break the rosary unless extreme and intentional force is applied.
There are some short notes on the construct of this rosary in the general notes and tips on Handmade Rosaries.
Materials
Akoya pearls
Swarovski Crystal Pearls (Bronze, 10mm)
Naturally formed pearl cross, topped with Sterling Silver and a sapphire gemstone
Wire hand-chained/looped in 0.925 Sterling Silver wires
Sterling Silver rosary center (Jesus in a heart)
Approximate length: 56 cm (laid out straight, including cross)
---
(CH0139)
DD MONTH YYYY
---
---
Custom Search
Like This Page?