Handmade Crafts - Lacy Green Gloves
Fingerless Gloves, Hand Warmers, Wrist Warmers
Custom Search
I am on a bit of a roll with my Warm Handmade Crafts this upcoming winter. And fingerless gloves are proving a bit of a hit - as they should be. There are so many delectable crochet stitches that one can easily use with them and they come out all of differently beautiful (if I do say so myself!) But more importantly, they are comfortable, warm, easy to wear and ensures that you have warm working fingers throughout the chilly seasons.
This is another in a series of little hand warmers for 2012 - and simply called "Lacy Green" Fingerless Gloves.
I don't have a second pair of hands ready to help me with the photos. But thank goodness for my new pressie (iPad), I have managed to take some photos after much fudging around!
"Lacy Green" fingerless hand and wrist warmer
Anyone into handmade crafts will truly enjoy the uniqueness of this piece. Hot coffee and warm toasty hands & fingers with a touch of romance and Lace - what could be better on a mournfully cold day?!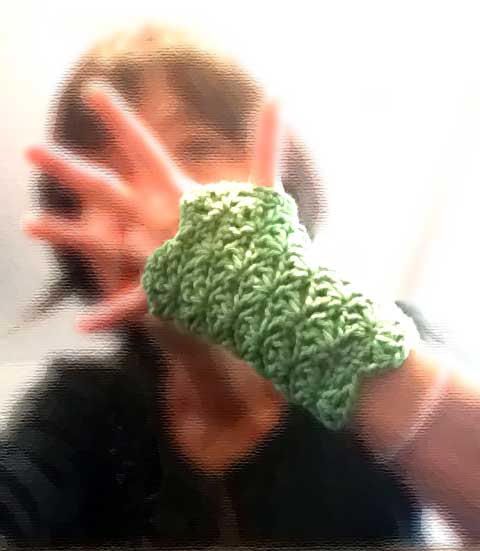 I do love making and wearing fingerless gloves. Fingers, when chilled, can do no work! Until you have tried a pair of fingerless gloves, you have not real idea how much warmth they can restore to cold, chilled fingers and how, all of a sudden, your fingers can work at full capacity again!
---
Handmade Crafts: Work Details and Photos
How to Make Crochet Finglerless Gloves?
I am just putting down some notes on the making of these lacy fingerless gloves. It will make more sense if you already know some basic crocheting.
The main stitch used throughout is "scallops" made of [1 chain stitch + (1 Treble Crochet+1 Chain)x3]. And then you build row by row in the same pattern.
Taking a look at the photo below will give a better idea of the stitches used. The glove is edged off to accentuate the scallops as well as provided a firmer edging. Note that another band of "scallops" is worked at the wrist edge.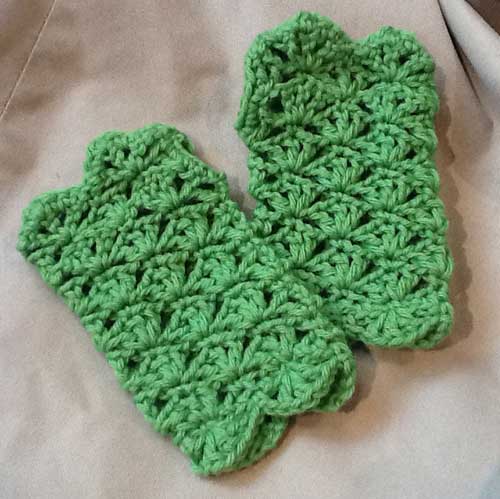 Yarn for Crochet Fingerless Gloves
Cascade - 100% Peruvian Highland Wool
This was worked in Clover 4/0 and 5/0 crochet hooks. The larger hook was just used for the initial base chains (approximately 24 stitches) and was worked in rounds/circular so that there is no need to create a seam.
Maintenance/Care
As with most handmade crafts, a bit of loving care will ensure the longevity and optimal upkeep of the piece.
Recommended: Hand wash in Cold or Warm water.


IMPORTANT!

Do NOT wash in washing machine. Do NOT wash in hot water.
100% Wool will shrink ("felt") with hot water and/or overly vigorous friction.
Use dry towel to absorb moisture.
Dry flat to prevent misshaping items.
Size: Small
Status (CH0254)
18 April 2012
---
---
Custom Search
Like This Page?