Handmade Crafts - Bohemian Hobo Scarf
Multiple Styles from one scarf/ neck warmer
Custom Search
If you are into handmade crafts, this Bohemian Hobo colorful and versatile scarf is delightful to make and even more delightful to wear. Winter is fast approaching for us in the Southern Hemisphere and something this colorful, soft, versatile, and funky is the way to keep away all winter blues!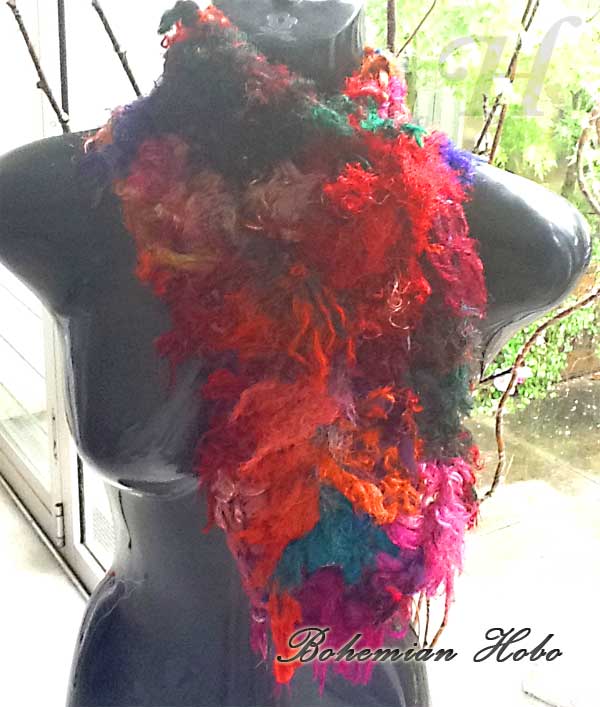 "Bohemian Hobo" - a celebration of Color & Warmth
This neck warmer can be worn in multiple ways - depending on your personal preference, style, and outfit. It can be worn really snug around the neck for those extra chilly days. It can be worn lower down, with or without buttons showing, in a semi-collar style, or anything else you can come up with. I am showing only some of the different ways how this scarf can be worn. I am sure you can come up with many of your own.
This scarf comes with a set of "Mobile Buttons". They can be moved around anywhere on the item to create the different styles. Not only can the buttons be moved around, but they can be "flipped around" - both buttons are different and you can decide which button you want to be visible on top - or even, fold over (as in making a fold-down collar) and hide the buttons altogether.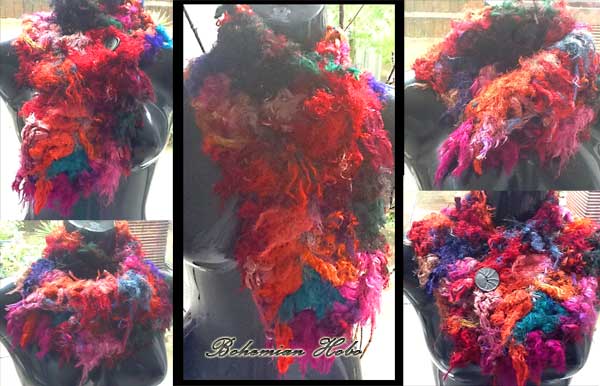 Below are larger photos of the various ways this Bohemian Hobo neck warmer can be worn. Sorry about the "boobs" - I guess I should have dressed it up more decently!!!
Photo below shows the scarf being worn in an easy button up style.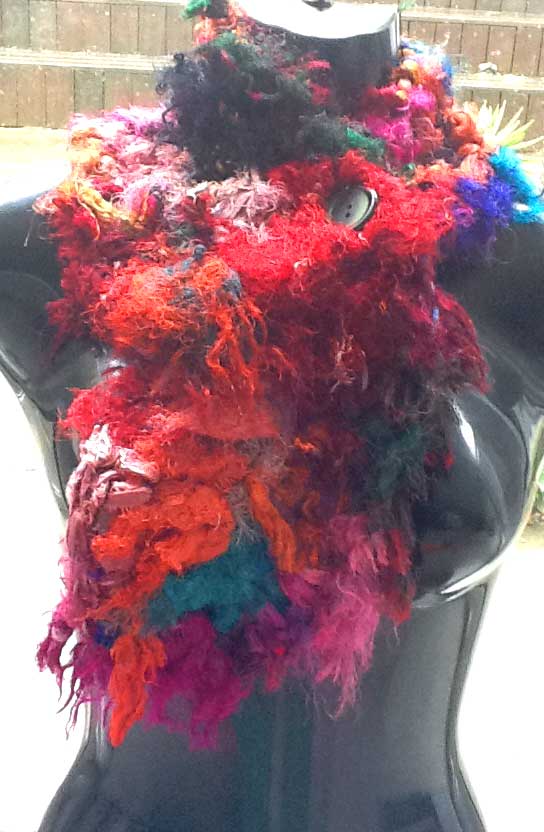 Repositioning the button cans easily give you a different style. Below shows an ideal look especially when you want to keep the chest warm and protected from the cold.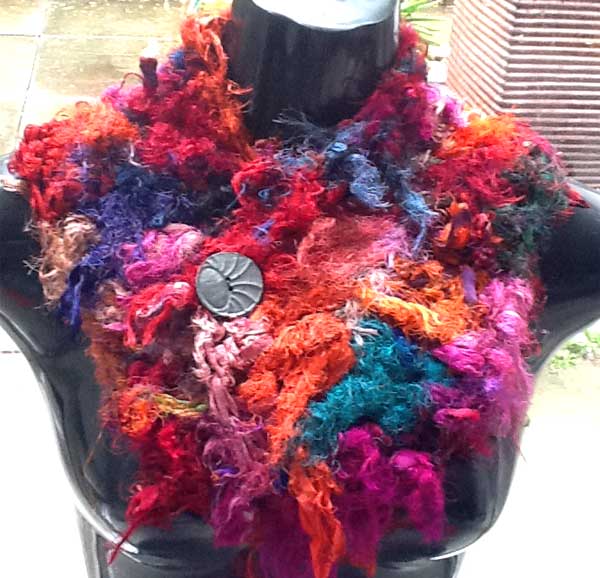 Next, the buttons are positioned higher up for a snugger look and if you look closely, part of the scarf is semi-folded down to give it a "collar". The buttons are hidden from view.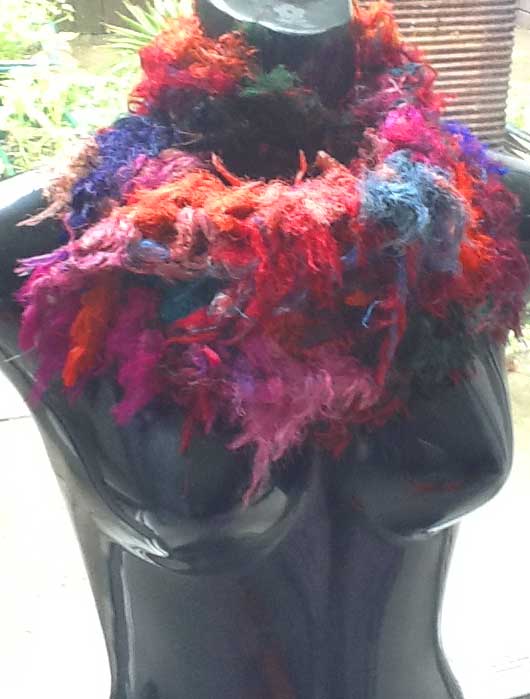 Here is yet another closer look at the neck warmer This is super toasty warm and comfy!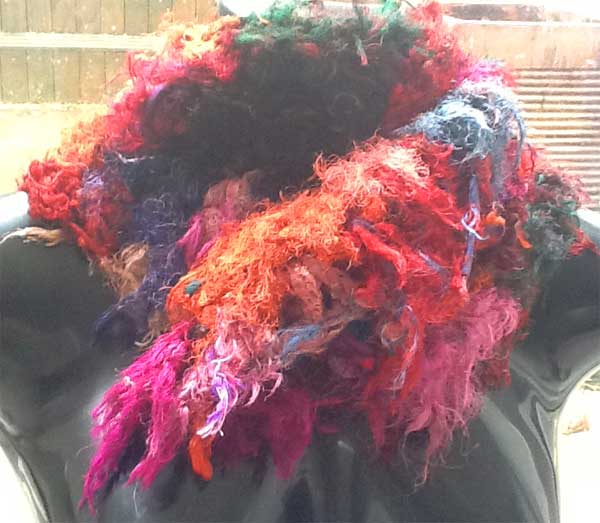 ---
Handmade Crafts: Work Details and Photos for Bohemian Hobo Scarf
Materials: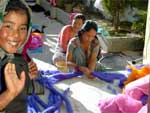 Recycled Silk Sari Ribbon Yarn
The Sari Ribbon yarn have been gathered and wound into usable balls of "yarn" by the native women in Nepal. They are from a community of women within a co-op that helps them earn income and independence.
The picture below shows the structure of the piece. It is basically a rectangular piece. The attractive randomness of the shape comes from the fact that the Sari ribbon has varying thickness and knots - which gives it an entirely appealing finished look. Very "Hobo" don't you think?
The Sari Ribbon Yarn is ideal for all mannner of handmade crafts - from using them in mix media jewelry, to knitting, artwork, paintings, and garments. They come in bright delicious colors and are truly a yarn you want to have in your arsenal of goodies!
The entire piece is worked in "finger crochet" - i.e. just using your fingers to create the crochet stitches (double crochet stitch).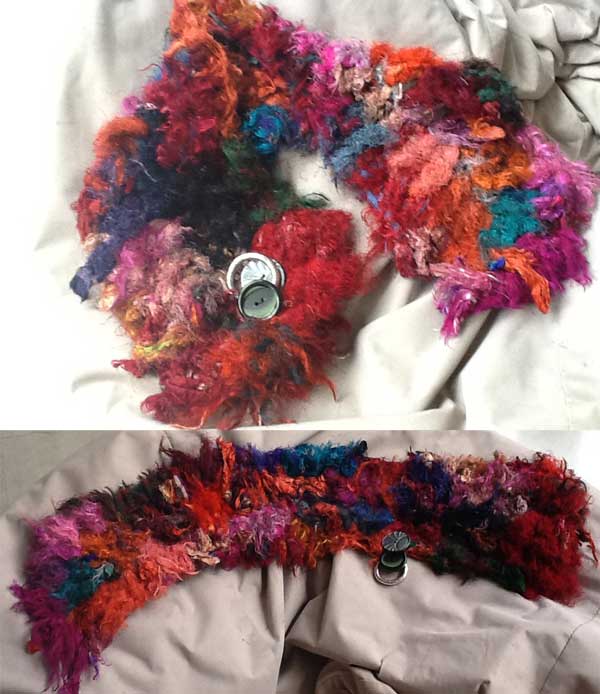 This photo below shows the closure that is used for the scarf. It is made of two different large buttons, with a light silver ring in-between, and joined loosely and securely with a strong yarn. The intervening silver ring helps provide extra secure base for the buttons. Because the stitches in the piece are quite large, it is very easy to put the buttons through any stitch and hence, easy to move the buttons around to create the various styles.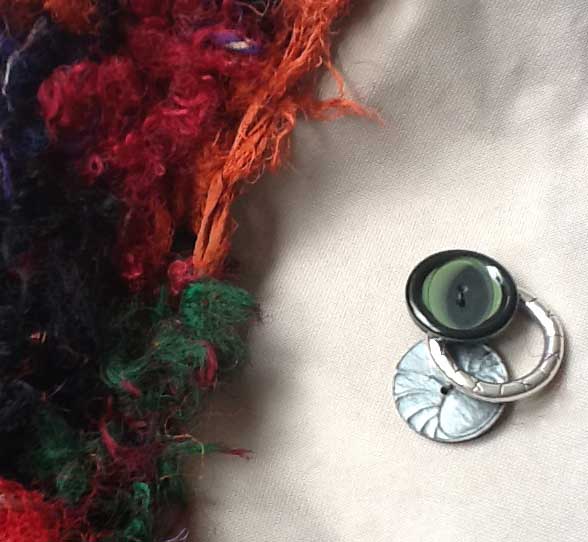 The different coloured buttons gives you the ability to have additional choices - which button to show on top or even if you want to show the button at all.
The buttons are fully detachable. So you can easily use a scarf pin or brooch in its place. Or even make your own button-closure :)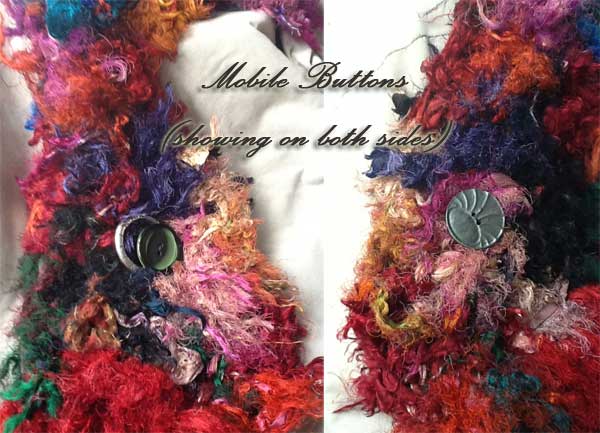 Maintenance/Care
As with most handmade crafts, a bit of loving care will ensure the longevity and optimal upkeep of the piece.
Wash separately

. For color safety, do not wash together with other items.
Recommended: Hand wash in Cold or Warm water.
Use dry towel to absorb moisture.
Dry flat to prevent misshaping items.
After washing, use a "Wool Brush" to lightly brush the item when dry. This will revitalize the piece and bring back fluffiness.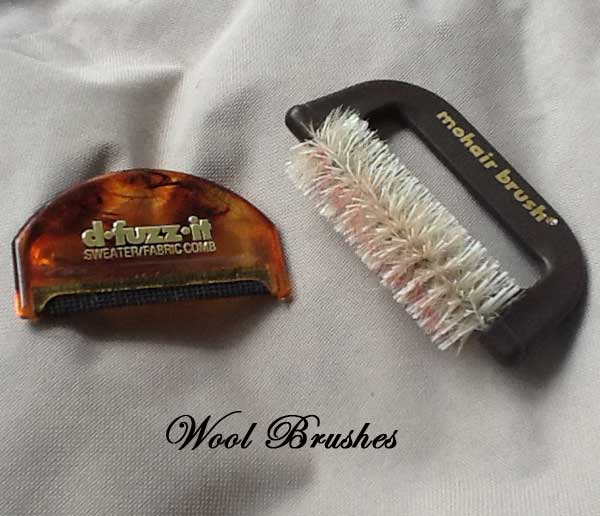 Size: Free Size
---
SOLD - (CH0252)
17 Apr 2012
---
---
Custom Search
Like This Page?