Handmade Crafts - Pink Baubles Fingerless Gloves
Fingerless Gloves, Hand Warmers, Wrist Warmers
Custom Search
Warm Handmade Crafts is the ticket when the winter woollies are looking desirable and the cold snaps become a little too frequent and "brrr" is the involuntary word of the day.
This is another in a series of little hand warmers for 2012. Even though winter has not officially arrived for us in the Land Downunder, it has already send envoys on unexpected days to remind us how "brrr" it can get. The the "brrr" is always a good incentive to get the mind and fingers onto making winter woollies.
"Pink Baubles" fingerless hand and wrist warmer
Anyone into handmade crafts will truly enjoy the uniqueness of this piece. This set of gloves has a racy yet feminine look - ideal for work and play. The picot edges and the open crochet work gives it the feminine touch in delightful pink. The baubled banding adds additional warmth, texture, and wrist support. And the line of bright turquoise blue brings the colors to life.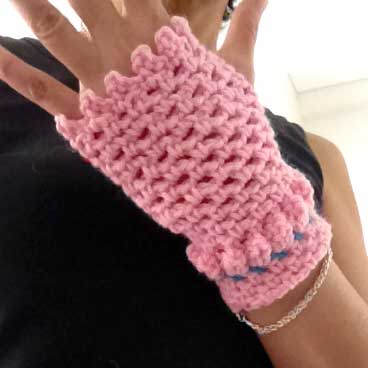 I love fingerless gloves and mitts. In the cold, my fingers get really chilly and worse, they get stiff. That makes it virtually impossible or at best, very hard to bead tiny beads, to knit, crochet, sew, and even type smoothly on the keyboard. If you have never used a fingerless gloves but feel the chill in your hands, then this is a must for you. You will be amazed at how much warmer your hands become and as a consequence, your fingers can also function with nimble mobility again.
Extremely simple to wear. Just pull on and be Warm! There is no right or left side - can be worn interchangeably.
---
Handmade Crafts: Work Details and Photos
How to Make Crochet Finglerless Gloves?
I am just putting down some notes on the making of this pair of open crochet work fingerless gloves. It will make more sense if you already know some basic crocheting.
The body is comprised of [triple crochet + 1 chain] - repeated in the round.
The following row is made by placing the [triple crochet] over the chain and continuing with the [triple crochet + 1 chain] pattern.
Start by getting a length that will fit semi-snug and comfortably around wrist and hand; join and continue working in rounds.
You begin at the band which has the same pattern of [triple crochet + 1 chain]. To ensure that the wrist band is a tat snugger than the body of the gloves, I used a smaller crochet hook (Clover 4/0). I changed to a larger hook (Clover 5/0) after the baubles.
The row of baubles is made thus: 4 Triple crochet into one stitch, then join the 4 Triple crochet together to make a Bauble. 1 Chain. Make another Bauble.
Yarn Content
100% Peruvian Highland Wool
Maintenance/Care
As with most handmade crafts, a bit of loving care will ensure the longevity and optimal upkeep of the piece.
Recommended: Hand wash in Cold or Warm water.


IMPORTANT!

Do NOT wash in washing machine. Do NOT wash in hot water.
100% Wool will shrink ("felt") with hot water and/or overly vigorous friction.
Use dry towel to absorb moisture.
Dry flat to prevent misshaping items.
Size: Small
Status (CH0250)
15 April 2012
---
---
Custom Search
Like This Page?