Gemstone Beads
semi-precious glorious beads
Custom Search
Gemstone beads, being made from semi-precious gemstones, naturally hold more than innate beauty. They also hold all the depth of meanings associated with the gemstones.
Generally speaking, a gemstone is a stone that is rare, beautiful, and durable (resistant to brasion, fracturing, and chemical reactions.) Most gemstones have a good hardness and a fairly high index of refraction (sparkle).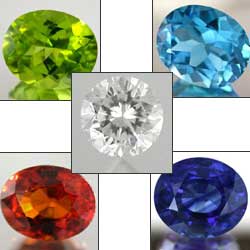 It is widely, though not universally believed that gemstone have healing or theraupetic properties. Below are listed some of those associated properties.

Amazonite: Improves self worth/confidence
Amber: Lift heaviness, allowing happiness to come through
Amethyst: Spiritually uplifting and for effective communication
Apatite: For communication, clearing of misunderstandings
Hematite: For protection from the negative emotions of others; establishes strong connection between our body & inner spirit
---
Cubic Zirconias (CZ)
It is a general practice where you will find that Cubic Zirconia beads & jewellery are classified under & accepted as (synthetic) gemstones.


---
---

Recommended Information Pages:
Treasure-Cut-Gemstones
Welcome fellow faceters, jewelry makers and gemstone shoppers! Here you will find a treasure trove of information about gemstones. Browse our Gemstone Treasures Store for fine jewelry and watches as well as loose gemstones, crystal art, supplies and books about gemstones.
---
Custom Search
Like This Page?