Gallery Designs
for your inspirational enjoyment
Custom Search
Mar 2012: This is an old, general collection of images. For more detailed works, notes, and jewelry design collection, please refer to
Jewelry Design Collection
.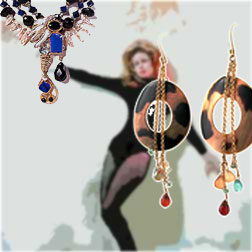 These gallery designs have been pulled together for Fun, Inspiration, and Ideas. They show a variety of designs using Beads, various Jewelry Findings, Jewelry Stringing materials, Wires, etc.

They are not meant to replace your own unique style but I have found that it is always useful, Fun, & Rewarding to look at designs because they will generate ideas within your own head that is based on, but not identical to what you see. Most of these Jewelry designs have either been depicted in an "artistic" style or in grey tones so that the Design of it is foremost and not the colours nor overly photo-realistic details .. which, if too detailed, can at times 'over-whelm' one's own creative New directions.

Jewelry Gallery Designs continued
which will show you many more designs with links to useful details and photos. Too many to be hosted here alone.
Gallery Designs Index
---
Custom Search
Like This Page?