Fashion Accessories - Brooch
"My Name is Sunshine"
Custom Search
Fashion Accessories have their stories too ..
"My Name Is Sunshine" IS my name. I was created to bring sunshine to someone special. And I am told everyday that I do. Life is Wonderful! This is my story ...
In a flurry of late-night inspiration, my maker-bee created me. But she left me with no ability to go forth into the world. She gave me no backing, she gave me no bail, she gave me no discernable purpose in life. She looked at me and she was well pleased. But she didn't know who or what I was yet to be. At that stage, she didn't even think that I was going to be a fashion accessory with a difference.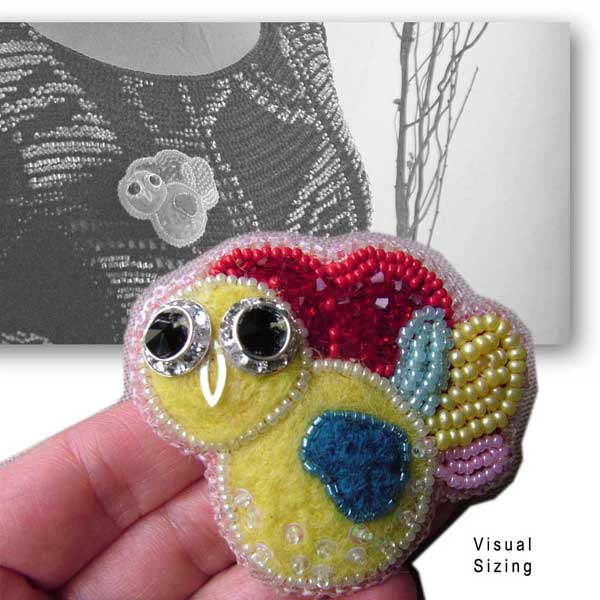 I could hear her other yet-to-be-born beings calling for her attention, and so with no new data to guide her, she wrapped me up and left me to languish in limbo.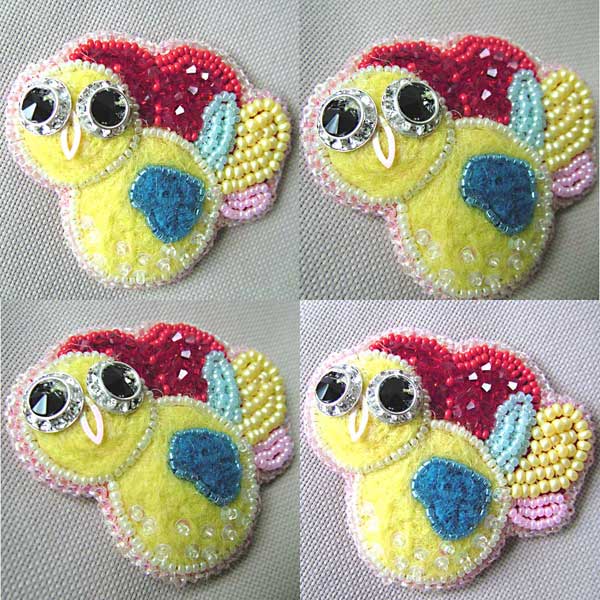 Then one day, what seemed a long while after I came into being, my maker-bee looked at me again and finally, finally .. she heard the callings of my soul. And I could tell her my name. I said, "My name is ...", and then she seemed distracted so I repeated myself, "My name is Sunshine". And so that is how she came to name me, "My Name Is Sunshine". And now that I am so named, (though I am frequently and lovingly just called "Sunshine"), I find that I do like my name. Very much indeed.
I was born in Sydney, Australia but now I live with an angel who lives in Maine, America. I was also made functional, so I get to be pinned on lapels, jackets, tops, bags, cushions. I am one of the fashion accessories on the go! I get to go everywhere. I have a full and wonderful life.
---
Fashion Accessory- Brooch Work Details and Photos
"My Name Is Sunshine" came about when I was playing with how to create perfectly round needle-felted pieces (see head and body) using cutter moulds to help define and control the shaping. The red heart at the back is also needle-felted using a cutter mould as a guide. As is the heart shaped blue wing.
I wanted to see what the results would be like using a mould as a guide compared to not using a mould. Either way works well but with using cutter moulds as guides, one can produce more consistent and neater shapes and sizes.
The embellishments came after. I used crystals, flat rondelles, Swarovski small pendants (for the black eyes), and ceylon seed beads.
For the backing, I used recycled suede and it is great! It is strong, soft, feels like suede of course and is very easy to use. I love it!
I didn't have any "proper" pin/brooch finding at the time but then again, I do like to re-purpose things. I have some boring flat pins and they were the perfect shape and size. They were however in an ugly purple. So I painted the edges with silver metallic paint. Then I glued the pin securely to the suede backing. And "My Name Is Sunshine" finally was ready to go forth into the world .. and he did!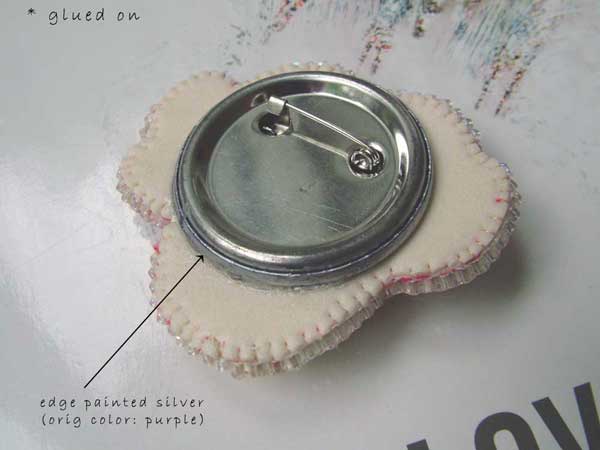 ---
Where has Sunshine Gone?
On 24 October 2010, Beverly Reynolds - a pure angel - bought Sunshine with love. However "Sunshine" had to make a detour before he could take his first flight across to the other side of the big pond. He had to go visit my very talented buddy, Caroline Fung.
Caroline, in her incredible kindness was making "Little Ethan" as a gift for Beverly. So "Sunshine" went over to visit with Caroline and to pick up "Little Ethan" so that they could keep each other amused on their way over to USA and to their new home. "Sunshine" was drooling to meet "Saucy Molly", who happens to be "Little Ethan's" aunt.
The next pic was taken by Caroline while "Sunshine" was visiting. From left to right: Little Ethan, Saucy Molly, and Sunshine.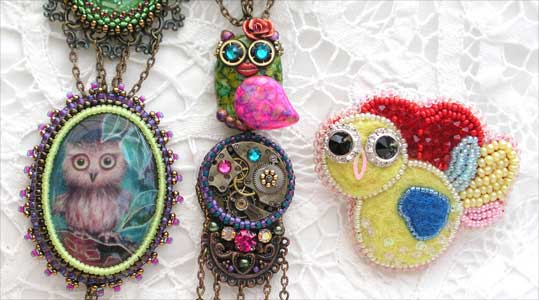 Ethan, Molly, & Sunshine
And so that is how "Sunshine", who is really more than a fashion accessory, comes to live a life of happiness and joy with a veritable angel.
Addendum: 6 March 2011
I just got feedback from Sunshine's new mommy and she says that Little Ethan and Sunshine travels a lot with her in USA and that they are both loved by everyone who sees them. They are "quick conversation pieces". Each of them are kept in their beautiful "little beds" when not toravelling.
It is so good to hear about them and know that my veritable angel friend is loving and taking care of them, and vice versa I trust.
---
(Sold - CC0112)
---
Custom Search
Like This Page?