Sparkling Crystal Beads
The wondrous joys of a plentitude of glamourous sparkles
Custom Search
Crystal beads produce wonderful sparkles. Crystal is glass with more than 30% lead. It is this lead that produces the high refractive quality so sought after in crystal.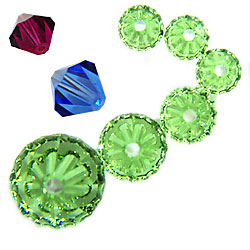 Amongst all the crystal lead beads, Swarovski crystals have been and continue to lead the pack in terms of desirability, quality, and crystal brilliance. Its quality is typically labelled "Triple A" and we have only once seen one other non-Swarovski crystal which was able to match the brilliance of the Swarovski bead. Unfortunately, the manufacturer had to stop production of that particular high-grade crystal because the production cost was too hight. Swarovski crystal uses only high lead content. Typically a full 32% of the glass is lead and lead oxide. The presence of lead heightens the index of refraction - making it look like diamond. And that is why it is also more expensive than any other crystals.

The 2 most common but ever-popular shapes for crystal beads are the timeless bicone crystals and the RFC (round facet cut) crystals. The number of cut faces on the RFC crystals are also a popular variation of that type of bead.

These days, more and more different shapes of crystal beads are to be found. Swarovski themselves are constantly coming up with new, unique & interesting shapes for their crystal products, findings, and beads.

Custom Search
Like This Page?