Calotte Multistrand Jewelry
Using Calottes to Finish a Multistrand piece
Custom Search
Finishing with a calotte crimp
or
finishing with a clamshell criimp
will give a professional smooth finish to your creations. Calottes are usually used to finish single strand jewelry pieces but they can easily be used effectively for multistrand pieces.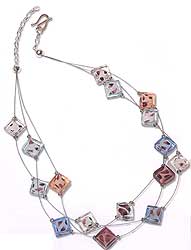 You will need a larger calotte so that it can easily cover over knots or cimps that are joining the multistrand together.

Calotte crimps or clampshell crimps are most often used with flexible
beading wire
but it can also very effectively be used with strong threads.
The steps here are shown using a calotte crimp but they can be easily apply using
clamshell crimps.
---
Tools Needed

French crimps (aka crimp beads)
wire cutter (like memory wire cutter)
tape (optional)
2 calottes
flat nose pliers
fastener/clasp

1) When you have multistrands of wire/threads, it is a good idea to use 2 French crimps to securely the threads together.
Clip the ends of the wire threads after flattening the crimp beads.
Put a calotte around them.
2) Using a pair of flat-nosed pliers, squeeze the calotte closed tightly but without damaging the thread.

3) Repeat on the other end of the multistrand piece.
3) After that, apply the fastener of your choice to finish off your piece.
Custom Search
Like This Page?