Vintage Beaded Necklace
Madame Pompadour choker
Custom Search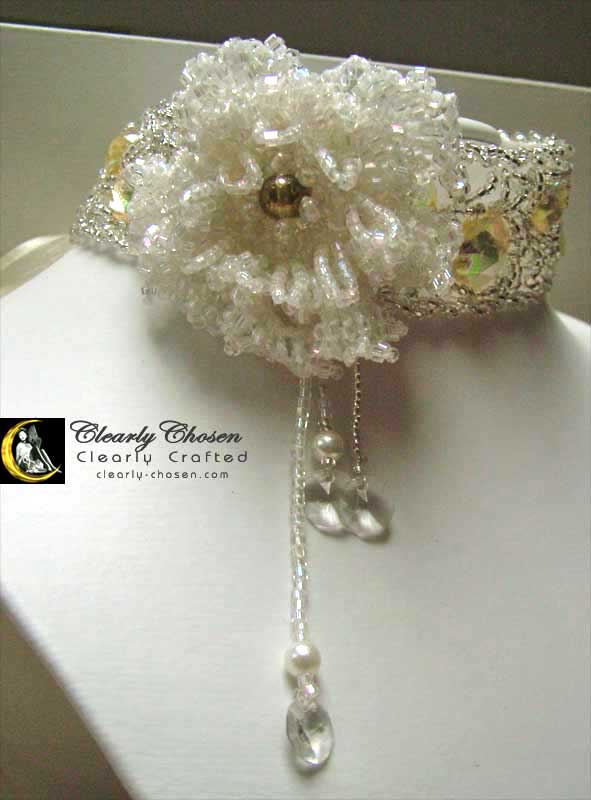 Yippee! My beaded necklace / choker won!!!
This is my first ever win in a competition. I am so happy! Until this year (2010), I have not had a lot of time for jewelry making, have never entered jewelry-making competitions, and I never thought I would. Though I am still not by any stretch of the imagination, an avid competition entry-fan, I did find this one to be a lot of fun. And that one can learn a lot of unexpected things during the research phase as well as during the process of creation. The best part of competitions I find is that they stimulate the mind and one ends up thinking up and trying out stuff that one would otherwise never have attempted.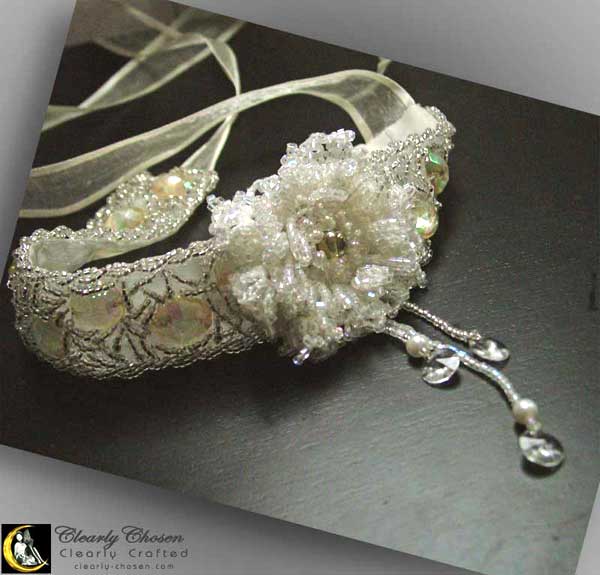 The competition was held at the Australian Beading Forum (YOJ5-27) in the Year of Jewellery challenge. I was totally delighted, overjoyed, and enthralled when I won.
As you can see from the photos, I was then still operating under "ClearlyChosen". My current brand "ClearlyHelena" had yet to be the twinkle in anyone's eye.
The theme set was "Madame Pompadour". I started with some over-ambitious idea but ran out of time. So I settled for what I thought would be a much simpler, less time-consuming technique. I am glad that I did coz it turned out better than I had hoped for.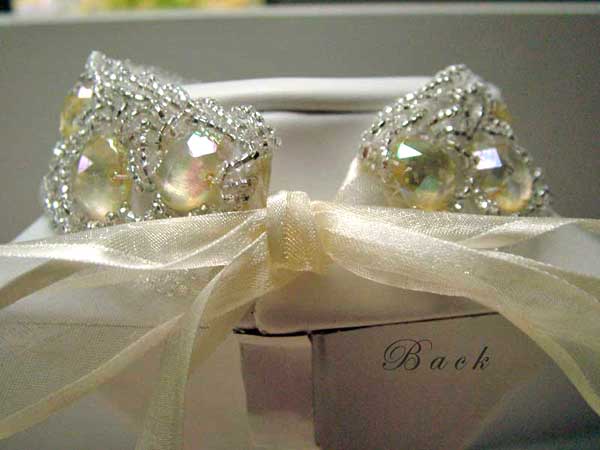 This is a vintage style choker with ribbon-ends that allows it to be free size and be able to fit perfectly and snugly, as the wearer chooses. It is gently finished on the inside for extra comfort during wear.
The central flower is a handmade crochet beaded flower with matching dangles.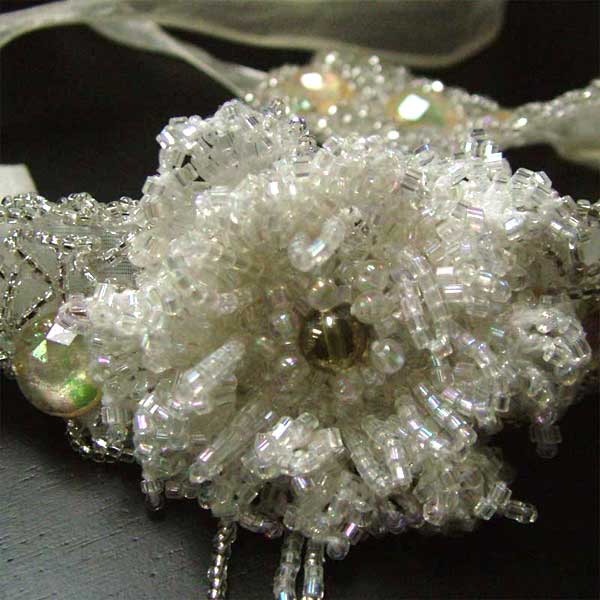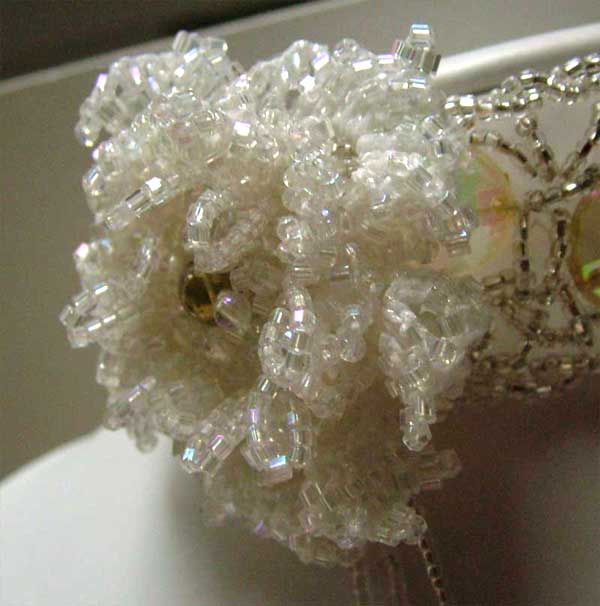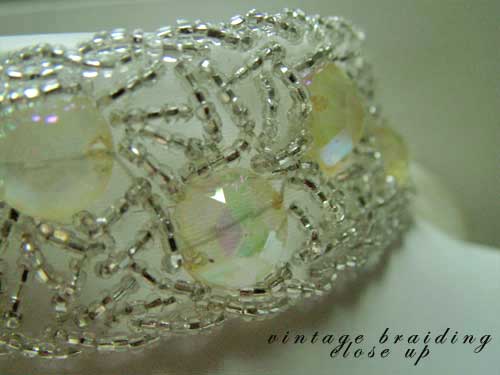 The choker band itself is from a genuine vintage braiding (from the 1950s - 60s which I purchased a long time ago from a closing down auction).
As you can see, there are a lot of photos for this piece. Photography however for me is a bit like pot-luck. Some days the photos turn out just right. Other days I look at puzzlement at my camera, and wonder why it is such a lousy photographer! Obviously I was lucky during this photo session.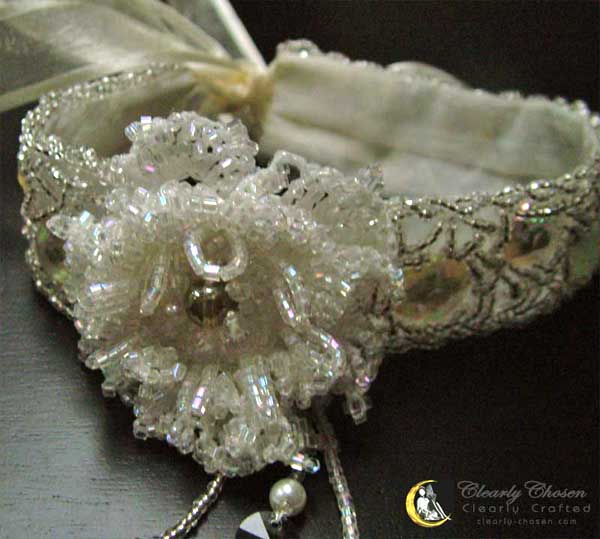 ---
Beaded Necklace Work Details and Photos
I strung Crystal AB facet bugle beads (charlotte seed beads) onto a strong white silk string. Then crocheted to make the focal flower. Matching beaded dangles were first attached to the vintage braiding. Then the flower was attached on top and in place. The back part is only neatened and finished after all this attachments have been done.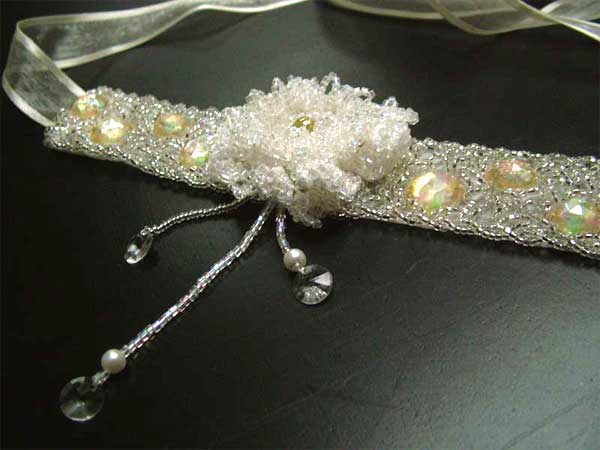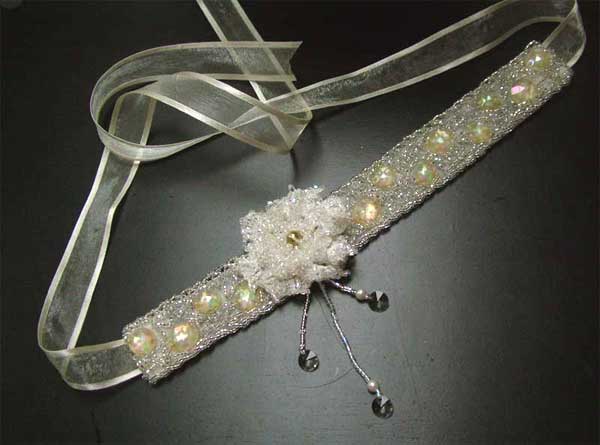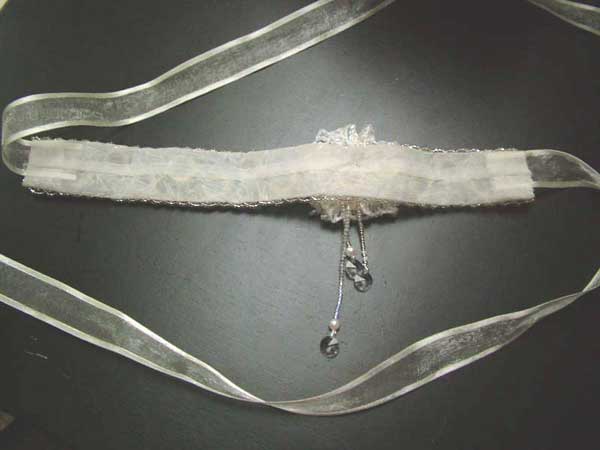 Everything is securely sewn down and eased in for maximum comfort. Never use nylon/invisible threading. They always irritate the skin, especially when this has to be a comfort fit, right next to the skin.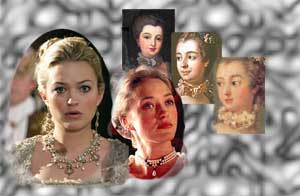 These were some of the images that I used as a starting reference point for the Madame Pompadour beaded necklace.
---
Additional Ideas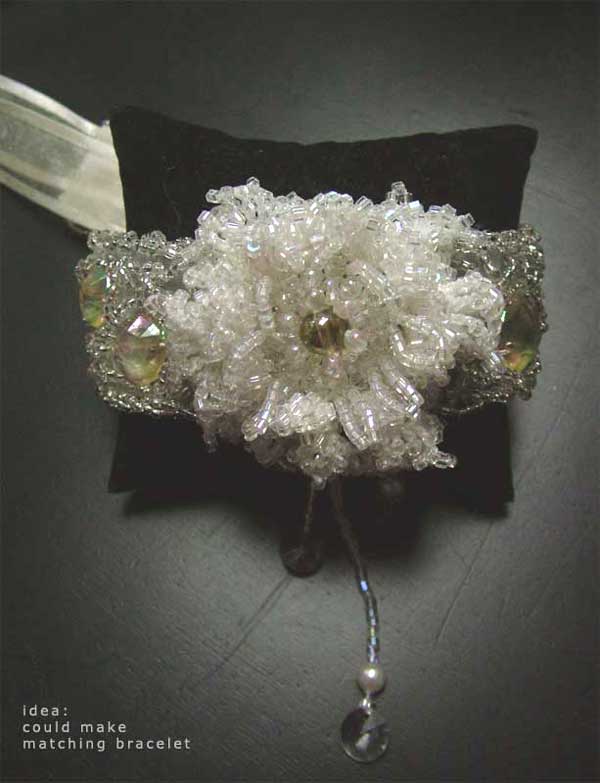 It would be quite delicious and ideal to make a matching bracelet as a set for a theme or bridal wear. Don't you think?
Gifted (CC0081)
---
Custom Search
Like This Page?